"Electrical Design" connotes the design of the electrical power distribution system of a building. TMG's engineers have extensive experience in electrical design for commercial, residential and mixed-use projects.
TMG also offers conversion of sketched electrical designs into CAD.
Sample of TMG's Electrical Design
The design shown below is of the embedded electrical conduit layout in a new 15-story residential building located in a major metropolis (click to enlarge).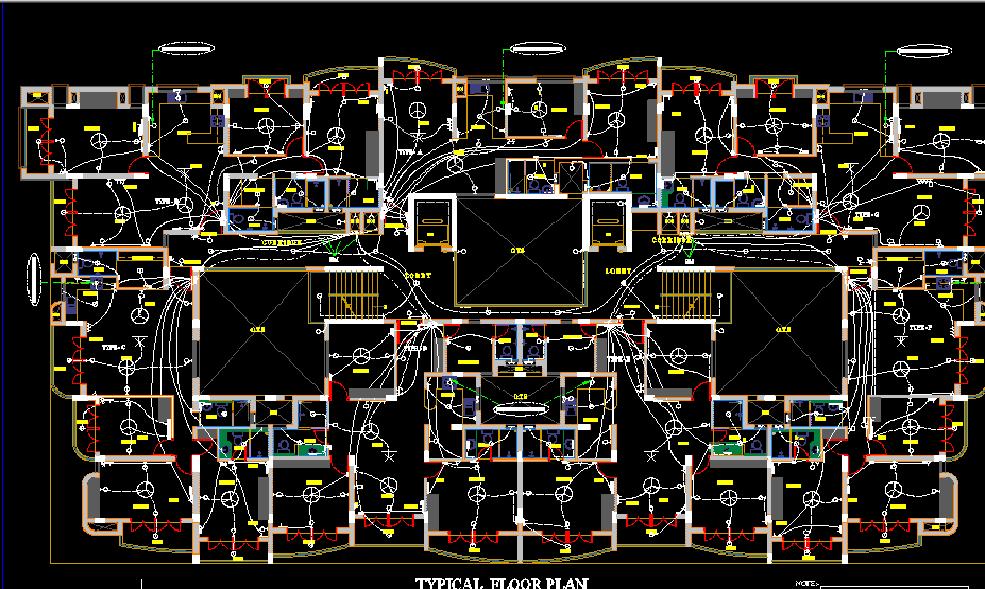 TMG's Electrical Design Procedure
The sequence of steps that The Magnum Group and its customers follow to arrive at a certifiable, economically priced, extremely safe and reliable design are:
Our customer gives us the architectural plan with electrical points marked on it

OR

Our customer gives us the architectural plan and we mark the electrical points on it according to our customer's placement guidelines


We calculate the current in all paths and the total connected load. We design the distribution circuit and single-line diagram for the project using statutory safety guidelines for that particular part of the world. The design includes distribution transformers, transformer yards, main switchgear, floor switchgear, consumer distribution boards and switchboards


We give the total load figure along with calculation details to our customer


We assist our customer in obtaining power from the local utility based on the above information


We design the conduit layout for electrical distribution in the project


We compile a bill of materials for the design including labor charges


Once work starts, we visit the site at regular intervals to check for adherence to our design


We are available at all times for technical discussions with the local utility


We supervise certification tests and project energization


Electrical CAD
For customers who are interested solely in Electrical CAD, we convert sketches of electrical layouts into CAD.
---
Latest Electrical News from Around the Web
Unable to open RSS Feed http://pipes.yahoo.com/pipes/pipe.run?_id=6164ed7429dd531c7b3834c0af1d525e&_render=rss with error Couldn't resolve host 'pipes.yahoo.com', exiting

---
---
---

© 2005-2017 The Magnum Group. We prohibit reproduction of our content in any form without our specific, prior written permission.