Colored floor plans are used by architects and inerior designers to explain their designs to clients not familiar with technical drawings.
Although colored floor plans do not contain detailed dimensions, they are often sufficient to give clients a satisfactory idea of a proposed building project.
Professionals Who Use Colored Floor Plans
Architects
Interior Designers
Furniture Sellers
Facility Managers
Exhibition Organizers
Graphic Designers
TMG has a collection of furniture and fitting images to insert into the colored floor plans it creates. We can create custom images for non-standard objects with minimal difficulty.
Colored Floor Plan Sample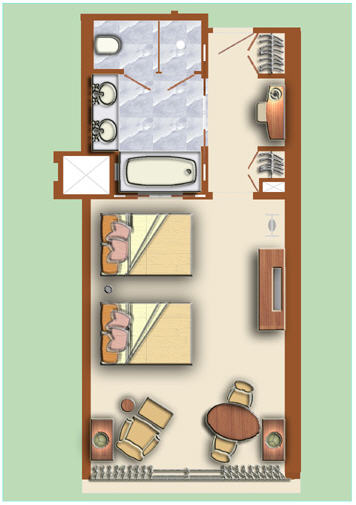 TMG's Procedure for Developing Colored Floor Plans
The client sends TMG the architectural plan, either as a scan or in CAD format
If the client sends a scan, TMG drafts it in CAD
The client sketches the required furniture and fittings on a printout of the plan, then scans and emails TMG the plan
The client also includes annotations for surface finishes and furniture styles in the sketch
TMG inserts furniture and fittings images into the architectural plan according to the sketch
TMG sends the client the resulting colored floor plan for approval
The client suggests changes to the colored floor plans
TMG updates the image
The last two steps are repeated until the design is finalized

---
---
---

© 2005-2017 The Magnum Group. We prohibit reproduction of our content in any form without our specific, prior written permission.