Responsive Website Design Service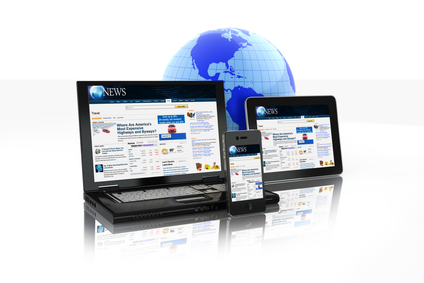 IMPORTANT
Visitors are viewing your website on screens of different sizes

Google says that if your website does not adapt to each screen size, those visitors will leave your website!

Look below for proof and solutions
The Large Base of the Various Screens
Visitors currently use:
Smartphones with 3", 3.5", 4", 4.8" and 5.3" screens
Tablets with 7", 9" and 10" screens
Monitors with screens from 11" to 22"
The following chart from renowned market intelligence company International Data Corporation (IDC), shows the remarkable increase in smartphone and tablet shipments in the recent past: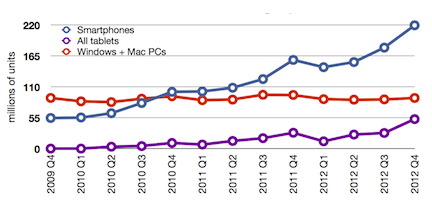 For Programmers: How to Build a Responsive Website
Responsive Websites: Google's Solution
When an increasing number of mobile devices started accessing the Internet, a Google study determined that 48% of users say they felt frustrated and annoyed when they got to a site that was not mobile-friendly (in our opinion that would be because of the pinching and zooming required to make a desktop website legible on a mobile device).
Google's recommended solution is that you have a responsive website, i.e. one that adapts to the size of the screen it is being viewed on.
Examples of Responsive Websites
The best example is this page! View it on your smartphone, tablet or desktop: the page configures itself automatically to be compatible.
Another fine example is the Wikipedia page on responsive website design (or, for that matter, any other page on Wikipedia).
To see a large collection of attractive, professionally-designed responsive websites, visit http://mediaqueri.es/ .
Solution: Our Responsive Website Design Service
We are experts in website design, and our responsive website design rates are less than a quarter of what you would pay a web designer in the Western hemisphere.
We can convert your existing, non-responsive website to a responsive one in a surprisingly short time because of our large workforce and the advanced design methods we use.
To explore our responsive website design service, please fill in your email address below and send us a message with details of your present or proposed website. We will respond quickly with a no-obligation quote. Do it now!
---

---
---
---

© 2005-2017 The Magnum Group. We prohibit reproduction of our content in any form without our specific, prior written permission.